Freckle's ELA program is standards- and skills-aligned so that students can develop their proficiency in essential literacy skills with practice at their level.
The standards and skills can be viewed from the ELA Standards Page by selecting ELA and Standards on the left navigation bar. Once on the page, you can view the standards and their composite skills by domain.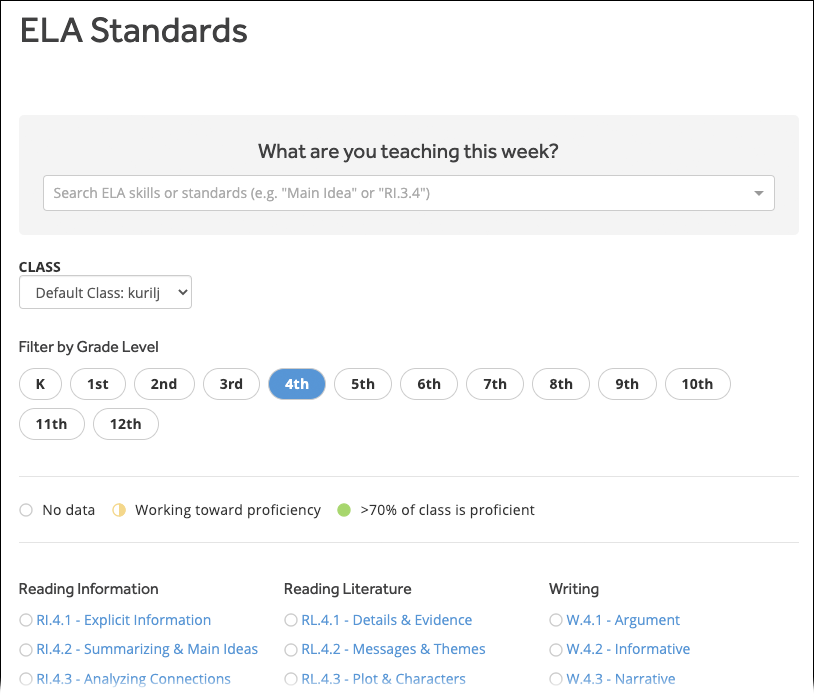 Freckle's ELA content is aligned with the Common Core State Standards, as well as a majority of US States' standards, across the broader literacy areas of Foundational Skills, Informational Text, Language, Literature, and Writing.
How are ELA Articles & Stories Standard/Skill-Aligned?
All practice items within each leveled texts of a given ELA article or story are aligned with 2–3 anchor standards, so that students can practice the same anchor standards with a given text, regardless of their reading level. They are always listed underneath the title of an article on the search page and on the right side of the article preview page.
ELA Skills Practice provides students with an adaptive practice experience along a learning progression within a specific domain of literacy, with students receiving short text-based practice targeting each skill comprising the progression. Each pathway's progression is ordered in terms of the numerical sequence of standards within that domain in addition to the rigor of the skills composing each standard.
Each skill within the progression has been decomposed into scaffolded sub-skills necessary for proficiency. ELA Skills prompts are aligned to these skills and sub-skills to build mastery, and provide remediation when necessary.